Think Your Product is "Too Cool" for a Demonstration Program?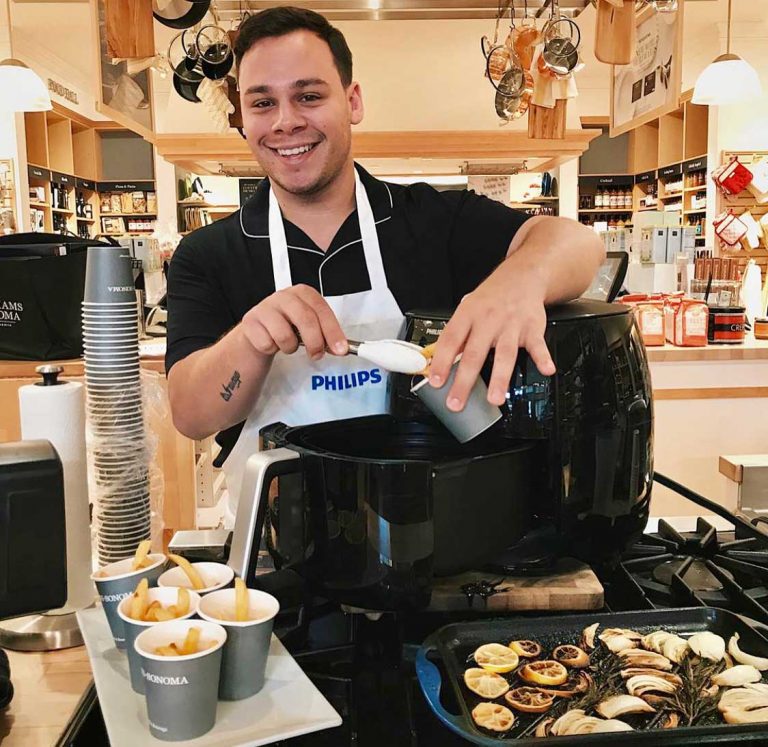 Or it HOT enough to jump off the shelf all by itself? Most of us have a few outdated memories of product demonstrators. For some, it's a door to door salesman selling vacuums, or a sweet old lady offering you a sample of the latest cheese wedge in a grocery store. But if that's all you think of when you think Field Marketing, then perhaps it is YOU who is out of date! In today's world of fast-paced and tech-savvy buying behavior, consumers can be overwhelmed with choices when purchasing almost any product. And while the "buy now" option can be appealing, research shows that the one thing often holding back a purchase is the peace of mind offered by a hands-on interaction. When end-caps, standees, and packaging aren't enough to put your product in the shopping cart, consider the highly successful product demonstration program.
Field Marketing's primary function is more than just selling a product. It is building brand awareness while increasing consumer engagement. The busier people are, the less time they want to spend "shopping". When they do venture out to explore their buying options, they expect entertainment and an experience that caters directly to them. Malls and stores are evolving to meet these demands, and it is more critical than ever to offer consumers a unique, high-quality 1-to-1 interaction. As the marketplace changes, so must retailers, brands, and the highly important "face of your brand".
Here are 5 ways that Productions Plus Demonstrators have evolved to keep up with a changing marketplace:
A good Demonstrator must understand that it is a privilege to have even a few moments of someone's attention. Understanding that consumers are living and operating at a fast speed, our talent are trained to quickly to create a personal connection. Our agency's focus is to have our Demonstrators and Talent treat every guest as if they are the most important person they will talk to that day. Our Talent approaches every interaction with the highest level of service, and when a consumer is treated like a guest in your home, your product often finds its way to their home.
Our Talent are carefully looking for opportunities to "WOW" the consumer. Our Field Marketers know how to ask questions, build instant rapport, and find common ground with guests (maybe it's noticing something a consumer is wearing, or offering an opportunity to engage in a social media sharable moment). The personal connection between the Demonstrator and the consumer makes for a memorable experience, which then transitions into a successful demonstration. Making an immediate impression and connection is key. It fosters trust, which ultimately translates to your brand.
Not being afraid of "difficult conversations." Consumers often arrive with preconceived notions or incorrect brand and product information based on things they have heard in the marketplace or online. If a consumer is skeptical, doubtful, or has it all wrong on your product and its performance capabilities, the most successful way to change them is through an informed conversation. A good demonstration will help combat product-related concerns presented by a buyer. Our staff is trained to view buyer concerns simply as a request for more information, and not a condemnation of their solution. Productions Plus Talent embrace these challenging moments with potential buyers, and see them as a true opportunity with a new consumer.
Being tech-savvy. Technology allows for a more fluid and informed experience for the consumer. Technology brings more streamlined communication and encourages hype around a new product launch. While consumers "need" the technology, our Demonstrators understand the need to connect personally with those consumers. Understanding and participating in the same technology with guests helps to stimulate interest, convey ownership, provide the proof of the product, and combat potential concerns. Technology is often the bridge between the consumer and the brand, and the tech-savvy staff knows how to join the experience. This furthers the opportunity for brands to continue their reach long after the interaction is over.
When it comes to KPI & ROI reporting, each of our Talent is highly capable at delivering qualitative and quantitative metrics to our clients. They are accustomed to utilizing any client-provided portals/apps, but also our own Productions Plus client portal to provide sales metrics data. In addition to these 'hard' metrics, our Talent can help provide additional 'soft metrics', such as key consumer comments & common themes of discussion. Productions Plus has developed a proprietary Consumer Engagement Tracker, which our talent use to log their consumer conversations. This has proved to be successful in providing additional real-time metrics to our clients about consumer purchase funnel position, length of consumer interactions, traffic patterns, and more.
These are 5 simple reasons why Fortune 500 companies repeatedly put their trust in Productions Plus Demonstrators across the nation. They know our Talent will be consistently energetic and enthusiastic, trained on product, sales, and consumer engagement, and able to capture metrics and data that allow you to make important marketing decisions.
Let us change your perceptions of In-Store Demonstrations. We are excited to show you how our skilled Field Marketers can result in increased sales and a larger return on investment for your brand!